Awards and Recognition
We've always considered our district among the best, but judging from the numerous recognitions our schools, staff members, and administrators receive, we're not the only ones who feel this way! Congratulations Conemaugh Township! Here are some of our district's prestigious awards and honors:
National Blue Ribbon School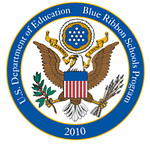 US Department of Education Blue Ribbon Schools Program
In 2010 the Conemaugh Township Area Elementary School received a great honor! We were named as one of the top preforming elementary schools in the nation and given the prestigious Blue Ribbon award for excellence. In 2020, the elementary school received the National Blue Ribbon for the second time.
U.S. News & World Report

Conemaugh Township High School has been selected by U.S. News & World Report as Bronze Award Winner for 2010, 2012, 2013, 2015, 2017, 2018, and 2019. They have listed our school as one of the "Best High Schools in America."
In January of 2012, the student body of Conemaugh Township prepared a great tribute. Years ago, Alfred Domineck, a WWII army veteran, left high school to prepare for war. While serving his country overseas, Freddie was seriously injured and returned from the war, a local hero but not a national one. However, our student body was determined to honor this man for his courage and sacrifice. Organizing a special tribute, complete with appearances by Congressman Mark Critz, the students of Conemaugh expressed their appreciation and presented Alfred with the graduation ceremony and honorary diploma he never received. Their efforts were recognized and applauded across the country by the Associated Press. Students, we're proud of you!